Kit Fisto is a Jedi Master that gained popularity among Star Wars fans from a mainly from his cameo in the heat of the Battle of Geonosis in which he flashes a smile.

The character was originally conceived as a concept design for a Sith Apprentice, but his appearance was softened and he was converted into a Jedi Knight with a small role in Attack of the Clones (2002) and Revenge of the Sith (2005).

Zachariah Jensen, Kit Fisto's portrayer in Attack of the Clones, had dreadlocks similar to Kit Fisto's tentacled head.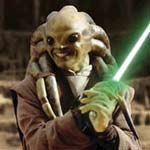 Kit Fisto's memorable grin contributed to his popularity among Star Wars fans