The Girl from Ipanema plays softly in the dentist's office waiting room in Finding Nemo (2003).

The Girl from Ipanema was originally written in Portugeuse in 1962 by Vinicius de Moraes, with music by Antonio Carlos Jobim, and called Garota de Ipanema. Lyricist Norman Gimble later wrote the English version of the song.

The song was popular in the mid-1960s and won a Grammy in 1965 for best record.

The Girl from Ipanema remains one of the most widely known songs of the bossa nova music genre, a type of Brazillian jazz that emerged in the late 1950s largely from the efforts of Antonio Carlos Jobim as well as other musicians.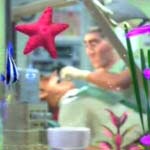 The dentist's office in Finding Nemo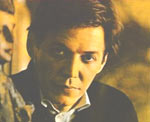 Bossa Nova pioneer Antonio Carlos Jobim