The seagulls are seen fighting over food and crying, "Mine, mine!" in Finding Nemo (2003).

The bottle neck appearance of the seagulls was based on the penguins in the short film Wallace & Gromit in The Wrong Trousers (1993). The film won an Oscar for Best Short Film, Animated in 1994.

In real life, the Silver Gull is the most common type of gull seen in Southern Australia.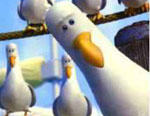 Seagulls in Finding Nemo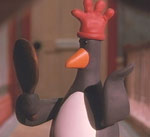 A penguin in Wallace & Gromit in The Wrong Trousers



A Silver Gull, the most common gull in Southern Australia