The lightsaber, the weapon of choice for Jedi Knights and Sith Lords, is inspired by the saber (also spelled sabre), a medieval weapon of European origins.

The word saber is derived from the Hungarian word szabni, which means "to cut." Many classic adventure stories and myths involve a climatic sword fight between the hero and the villain.

The bright laser-projecting quality of the lightsaber was incorporated to give the weapon a more futuristic feel.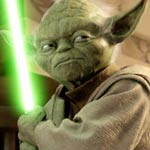 Yoda armed with a lightsaber